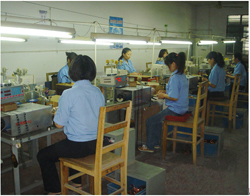 With over 20 years of experience, as a professional neon transformer manufacturer, SINOLITE has the right combination of experience, capability, engineering, equipment competitive price and process control to be the only OEM & ODM solution provider you will ever need.
Our top priority is to focus on customers' needs and requirements. We commit our resources as well as the professional staff to fulfill customer satisfaction. We have particularly set up an OEM management department OEMD to facilitate and an OEM/ODM for operation.
OEMD is an independent and specialized team to monitor production procedures and coordinate all related parties.
From quotation and placing the initial orders and test to final production and delivery, the OEMD will carefully monitor our entire factory's management. OEMD makes sure our factory checks each stage of our production to provide quality neon transformer.
In addition to market standard process, YIYA TQC standards are based on customers requirements and engineering specifications. YIYA assures customers will get total satisfaction from their product.